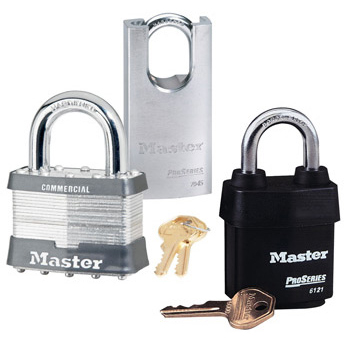 Custom Built. Commercial Quality.
Complete Security.
Master Lock, the worldwide leader in portable security products, continues to set the standard for quality and selection. Building on this tradition, Master Lock ProSeries® and Commercial padlocks can be customized to meet your specific needs. Our make-to-order capabilities allow us to create tailored security solutions for your applications. Choose the best width, material, shackle diameter and length, product weatherability, as well as multiple keying options or laser engraving to secure your property.
Keying Security & Capacity
Keying Security

Keying Security is Equally Important to Physical Security in Commercial Security Applications

Keying security includes both (a) the security designed into the padlock's cylinder and operating key, and (b) the way in which the product is supplied to the marketplace. Master Lock stands alone among padlock suppliers in both categories of keying security:

Master Lock provides the largest range of tight-tolerance cylinders and keys that vastly eliminate unwanted key interchange. This will better ensure that one employee's key will not be able to inadvertently open a second lock.
Master Lock offers key control services, charted and reserved systems all of which assure that your company's padlocking system maintains the utmost in key integrity, even as you reorder padlocks year-after-year. This means that additional padlocks ordered can all be specified to operate by distinct keys, if that is your requirement.

Key System Capacity

All cylinders have limits to the number of change keys that can be provided. Be aware that whenever KD padlocks are supplied from open stock, the possibility exists that two or more locks provided will have the same operating key. This possibility of overlap increases as additional non-charted (see Charting Service) stock orders are received. It is important to know the key change limits of the padlocks you are considering for your security system. If the supplier does not, or can not, provide this information, the integrity of your keying system may be suspect.
Keying Options
Keyed Different (KD)

Each lock is opened by its own unique key that does not open any other lock in the set.

Keyed Different is the standard keying default on Master Lock and American Lock padlocks.
Keyed Alike (KA)

All padlocks in the set are opened by the same key. This option provides "same key" convenience and eliminates the need for multiple keys where numerous padlocks are used. KA in the product number (ie 3KA) designates that the products are Keyed Alike. In some cases the customer can select a key code for the KA locks
Master Keyed (MK)

In a Master Keyed system, a master key opens all the locks in the system although each lock also has its own unique key. This permits organizing master key systems along departmental or other functional lines to allow supervisory or emergency access.

MK in the product number designates that the products will be Master Keyed.

If the customer is adding on to an existing MK system, please specify the master key code.
Rekeyable Padlocks

The cylinder in rekeyable padlocks can be removed in order to (a) change the pinning or (b) replace the original cylinder with a new one, restoring security quickly and economically. This is ideal for situations where keys are lost or stolen. Products with this option can be identified by "rekeyable" in the item description. Rekeyable padlocks are available Keyed Different, Keyed Alike, or Master Keyed.

Quickly restore security – should lost keys or employee turnover compromise your padlock system
Save money – replace cylinders instead of locks
Master Lock offers (8) rekeyable padlock cylinders
Interchangeable Core Locks

Interchangeable core padlocks and door locks don't require disassembly in order to change the cylinder. The figure-8 interchangeable cores (IC) can be removed and replaced with a single control key.

This convenience addresses common security issues:

Preventing access when a key has been lost or stolen
Resetting individual doors or gates with different locks to selectively limit access to authorized personnel
Re-securing a building after temporary or contract employees end their term
Securing a building against terminated employees

The Master Lock assortment of cylinders includes 16 distinct keyways to match existing profiles from Best®, Falcon®, and others. Cylinders, ProSeries® padlocks - Solid Steel, Solid Brass, Solid Aluminum, Weather Tough® and High Security Shrouded locks, with cylinders and mortise or rim cylinders for door applications are all available.
Door Key Compatible Padlocks

The same key that opens your security doors can now operate your security padlocks!

The Master Lock assortment of Door Key Compatible Padlocks means that the same key can open all your facility's padlocks and door locks as well. Most popular door keyways can be matched to a complete line of Master Lock and American Lock padlocks. The result is greater facility convenience and key control, plus the full strength of Master Lock security.
Master Keyed Systems
Master Lock offers the service of designing either a new or adding to an existing Master Key System for your organization.
In a Master Key System, a Master Key opens all the locks in the system although each lock has its own unique key.
In order to maximize the scope and flexibility of a new system, please evaluate your current and future organizational needs.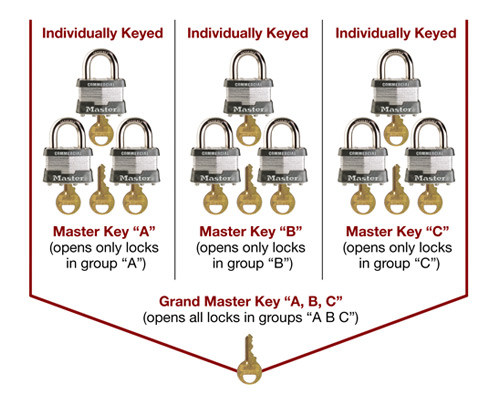 Learn more about how to design the proper Master Key System for your needs.
Design a Master Key System
Keys, Keyways & Bitting Specifications
Keys & Keyways

Master Lock and American Lock padlocks use a variety of keys and keyways. Keys are available both cut and blank. A diagram of the keys and keyways is available to identify the match to your padlock. Download the Keys & Keyways Chart from the Master Lock Technical Manual.

Bitting Specifications

The bitting (cut depth) for Master Lock and American Lock keys varies according to the keyway. The bitting specifications chart provides an accurate listing of cut depths by keyway.

Download the Bitting Specifications chart from the Master Lock Technical Manual.
Edge® Key Control
For companies wanting the confidence that the keys to their business cannot be copied, the patented Edge® Key Control system provides complete key control, eliminating the risk of unauthorized key duplication.

The Edge® system is available across the broad line of Master Lock® and American Lock® padlocks. An affordable key control solution, available for about US $10 additional per lock, Edge® provides total control & protection while offering a convenient single key system.

Learn more about Edge® Key Control
Shackle Options
Master Lock and American Lock offers a wide range of shackle options including shackles in extra lengths and various materials, including hardened boron alloy, brass and stainless steel.

Shackle Materials
Corrosion Resistance
Cut Resistance*
Steel
Excellent
Excellent
Stainless Steel
Superior
Excellent
Hardened Steel
Excellent
Excellent
Brass
Superior
Good
Boron Alloy
Excellent
Superior
Octagonal Boron Alloy
Excellent
Superior
*Cut resistance varies based on thickness of shackle

Shackle accessories are available as well including shackle collars, and chain attachments.